Sometimes finding tools and materials for your crafting project can be difficult when you live in Japan but don't read or speak much Japanese. For most people finding the local craft store is just a quick google search away, but for us gaikokujin, it's a bigger challenge than that. After living in the greater Tokyo area for quite a while now I've figured out the best places for finding the things I need to make my ornaments. I hope this list might make your search a bit easier. Ganbatte ne!
Many of the links below are in Japanese and might be difficult to navigate if you can't read Japanese, even with the help of Google translate. I recommend finding someone who reads Japanese to help you.
Yuzawaya


http://www.yuzawaya.co.jp/
The best place to find foam balls, cord trim, colored pearl head straight pins, embroidery thread and quality crafting tools. They also have a nice selection of fabric. There are many locations all over the greater Tokyo area. I recommend signing up for a discount card if you are a frequent shopper here.
Shimojima


https://www.shimojima.co.jp/eng/index.html
I buy all my ribbon at Shimojima. It's also a great place to find packaging supplies.
Tomato

http://www.nippori-tomato.com/
More fabric than you could ever possibly need or want. I usually spend most of my time on the top floor. It's worth a stroll up and down the street to visit the other Tomato branches and other fabric shops in the area.
Here is a fabulous guide in English to all of Nippori Fabric Town.
http://www.tokyocraftguide.com/nippori-fabric-town/
Sanki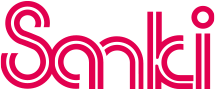 http://www.fi-sanki.co.jp/shoplist/index.php
Sanki is a super cheap clothing, home textiles, and other various junk shop. Some locations I have been too also have a craft supply and fabric corner. They have fat quarter discount bins that sometimes have awesome finds, but it can be hit or miss.
Craft Town Group Shops
I don't go to these shops very often but they are still worth a look if you happen to be in the vicinity of one.
And last but not least
100 Yen Shops!

I get tools like measuring tapes, upholstery needles and slider type cutter knives at the 100 yen shop. Beads and sequin shapes can also be found in the crafting section. Take a look in the gift wrapping section for unique ribbons too.
******************************
This is just my list of the best places to find craft supplies in Tokyo. Surely there are more. If you know of a shop that is not on this list please leave a comment and let us know about it. 🙂